As more and more women choose to travel alone,  apps for women who travel alone become more popular and more efficient. With so many apps available how do you know which ones are the best to use for solo travel?
There is nothing like a well-deserved vacation and traveling alone can seem like a good idea. The beautiful scenery, warm weather (or cold if that's what you're into), and great food is all that you can think about.
Until you start thinking of the planning necessary to make this trip fun and relaxing. Things like, what is the conversion rate for another country's currency or where can you relax if there is a long delay at the airport.
Traveling alone can be much more comfortable than people imagine – you just need to have the right apps. I compiled ten apps that are a must-have for a single traveling gal.
1. Netflix
If you have a long flight overseas or a short trip within the states, time on the airplane can become unbearable. You can help pass the time by binge-watching some fantastic shows on Netflix. The great thing about this app is that you can download many of Netflix's movies and series on to your device before leaving your home. By downloading your movies ahead of schedule, you rarely have to worry about slow loading videos or even having internet access.
2. Audible
Catch up on the latest literary releases with this awesome app. From fiction novels to finances, you are bound to find something that peeks your interest. Not sure if audiobooks are your thing? Audible offers your first 30 days free, and after that, it is a fee of $14.95 a month.
3. Waze
Road tripping has never been so easy. Waze is a GPS app that provides more landmark details than other many other popular map apps. It can identify impending traffic jams, cars that are abandoned on the shoulder of the road, and even stationed police officers. Waze also allows you to customize the speaking voice into funny accents or famous characters.
4.Get Upside
A relatively new app, Get Upside allows you to locate gas stations that are nearby and eligible for you to receive a cash rebate. The prices of the gas stations are shown within the app so that you can choose the lowest prices and the best discounts available. As I said, this is a pretty new app, so many gas stations haven't been added as of yet; however, this app has plenty of promise and potential.
5. Detour
Detour is a compact travel guide that you can take with you everywhere you want to go. All you need are a pair of headphones and working phone service, and you are on your way to your personal guided walk of many cities and monuments from all over the world. From New York City, USA to Barcelona, Spain, unique voices from around the globe gather to educate you on the fine staples in their neck of the woods. An excellent app for people who like to do their own thing!
6.Hum
Ready to hit the road but afraid of the issues that may arise along the way? Hum can help keep your traveling from unraveling. Hum allows you to share your check-ins with family and friends so that people will know where you are at all times. It scores your driving habits and lets you see if you can be a safer driver (i.e., if you are driving too fast). Also if you add the hum system, you can diagnose issues right on the spot, which will give you access to emergency assistance should you need it. The only limitation is that you must have Verizon service to use this app adequately.
7.Trip it
Are you a stickler for rules and following your schedule? Do you like to take the time to carefully construct a fun vacation based on visiting museums, parks, or other surrounding activities? Trip It app allow you to combine all of your travel tickets and confirmations (include hotel and airfare) and construct it into an easy-to-follow itinerary. No more having to switch between emails, texts, and other confirmation documents. Have all of your activities in one place that easily is accessible anywhere.
8.Currency Converter
If you are like me, you may not be up to date on the latest currency value in multiple countries. (I know, shame on me!) This app allows you to calculate the exchange rate of your country's currency into another country's currency. For instance, 1 US dollar is worth 2 Bajan Dollars. If you are a frequent traveler, understanding the money in the country you are planning to visit is crucial.
9.Couch Surfing
Couch Surfing is a fun and unique app that pairs you with locals from another country who love to experience adventure with new people. You can locate people in the country or state that you are visiting who like to take road trips, visit local pubs, or even put up guests in their home for a happy evening. Before being allowed to be a guest host, users are thoroughly reviewed beforehand for security purposes by going through a background check to ensure users' safety.
10.Lounge Buddy
Sometimes you have very long layovers, and you need a place to rest your head in the interim. Lounge Buddy offers hundreds of airport lounges at specially negotiated rates. The app allows you to pre-book up to 2 months in advance or instantly if you are at the airport. There is also a 24/7 support concierge service that travelers can use should they run into travel issues.
Have experience with some of these apps? Leave a comment below and let me know what you think!
*****
About the author of this guest post: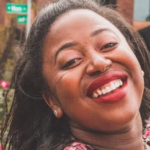 Single gal Advocate Miss Champagne B is a writer and blogger for dating and self improvement who focuses on positivity and growth. Learning to navigate the mean streets of being single, Miss Champagne B has learned how to be okay with it and most importantly learn to live her life and "do what feels right."She enjoys meeting new people and volunteering with young women and currently lives in Columbus, Oh with her pitbull, Kiba.